"It has been over 10 years since I have stepped foot into Cornerstone and every day now when I go to work I pass by the school remembering the fun I had and how nice everyone was to me.
When I was young, my parents dropped me off at Cornerstone early each morning on their way to work – thats where the best part of my day began but would inevitably end when my parents come pick me up in the evening.
My fondest memory was during my Grade One year when I had the kindest teacher I've ever come across my entire life. She was patient and very attentive to my learning needs. I still remember her to this day !
The years that I spent at Cornerstone were the best times of my childhood. I will not forget what the CPS faculty has done to make learning and growing up so much fun for a little boy like me."
"Cornerstone is a really good school and the academics are pretty strong. I like the way that the teachers help one-on-one to improve the standards of my children. Cornerstone has developed my children's standards."
"Joshua started school when he turned 4 and joined the CASA program at CMPS. At first, I wasn't sure how easy it would be for him to leave home, but it turned out that CMPS made it easy for both of us during the transitional time. Teachers communicate well with me on a daily basis and they pay so much attention to various aspects of Joshua's growth (academically, mentally, emotionally, physically, and even spiritually). They teach kids the right attitudes and manners. They discuss issues concerning kids and try to find solutions with parents. I can tell that they are sincerely caring for the kids.
The course materials are often fun and interesting too, which helps spark Joshua's interest in learning. The school often offers additional workshops and curriculum that broaden kids' minds and enrich their knowledge. The school also holds many events/concerts throughout the year and parents are invited to join them to create happy memories together! It's been 1.5 years since Joshua attended CMPS. Joshua has learned a lot (and so have I)! We'll always remember this memorable period of our lives.
Thank you CMPS!"
Why I Love Cornerstone
I want to tell to you about why I love Cornerstone because it has lots of song's that we could sing. Also, I have friends in this school. My teachers are very good and helpful.
I think God created Cornerstone Preparatory School because we get to study and worship Him.
I thank my mom for putting me in this school and I thank Dr. Ling for putting this whole school together.
When I am old I would like my kids to have a perfect & wonderful school like this. When I grow up I would like to be a teacher just like the ones at Cornerstone.
A.G., STUDENT (7 yrs. old)
"Cornerstone is a terrific environment for learning and I very much enjoyed teaching there. What really makes it special are the staff, students and diverse mix of cultures within the school. Cornerstone's class sizes allowed me to offer a hands on approach to my students. The administrative team are co-operative and supportive. As a student you will be offered a range of opportunities to enhance not only your academic success but also your life skills. As a teacher, I felt proud and fortunate to contribute to the great Cornerstone family."
"I just wanted to say a special thanks to all the teachers for teaching and taking care of my daughter at Cornerstone. I know she has become a smarter and much better person because of the lessons and values she is learning at this school."
"Thank you for never giving up on me !"
"It has been nearly twenty years since we first brought our little son to the front door of Cornerstone. Twenty years later, my little David is not so small anymore but we always remember the kindness of all the teachers there at the school. They have taught my little boy how to be studious and kind to others and he will never forget that great foundation."
"I would like to thank Cornerstone for all the wonderful attention and love provided to my son. He really had a good time and got a lot of academic and Christian knowledge. I can not explain how happy he has been with all the love he receives from his teachers. It is amazing how he has grown up during this year."
"Thank you for letting me be a student at Cornerstone. I am grateful because you have made me learn more about God and my education has improved a lot since when I was in my other school. I am going to stay at Cornerstone until I graduate for University."
a.h., student (11 years old)
"Cornerstone Preparatory School has a special place in my heart. Having been there from the first day the doors opened, it's the place I grew up.
Lots of firsts at the school are marked indelibly in my mind including the many dedicated teachers and friends. The memories of class visits to Quebec City, camping trips and sports tournaments are just a few of those special moments. The school provided many opportunities to learn about God and Christianity, and other languages alongside various required curriculum areas.
About five years after I graduated from the University of Toronto, I returned to volunteer at CPS. I am currently finishing my Bachelor of Education Degree, and hope to follow in the footsteps of those who inspired me in the past. Although the faces of the staff may change throughout the years, rest assured that Dr. Ling's loyalty and caring for her students (your children), will always be consistent and unwavering.
Thank you Cornerstone Preparatory School. Thank you Dr. Ling!"
"Our son has attended Cornerstone Preparatory School (CPS) since nursery age (4 years old). Choosing to enrol our son there was one of the best decisions we could have made. We have been extremely pleased with his social, emotional and educational progress in addition to receiving an education based on Christian values. We credit the curriculum as well as the wonderful teachers he has had at CPS with his achievements as a student. We are delighted with the structure and content of the curriculum, which are reflected in our son's grades, and the level and quality of education he has received and continues to receive.
The curriculum at CPC/CPS is delivered so that it prepares the children from Nursery School age for later years by imbuing them with good study habits, public speaking and presentation skills, and preparing them for more advanced scholastic material. I know, by having spoken and compared notes with other parents who send their children to other schools, that my son has received a superior quality education at CPC/CPS. Furthermore, as full time working parents, the before and after school child care offered at the school has been extremely helpful. The hot lunch and snacks which are included in the tuition cost, has put us at ease. We also love the fact that CPC/CPS offers and embraces cultural diversity, which is a reflection of the make up of the school's student population.
We are happy to know that over the years, by attending the nurturing and caring school environment provided by CPC/CPS, our son has developed into a charismatic, out-going, self-confident, grade 'A' student. He has undoubtedly started off his education on the right path and we are certain the foundation laid for him at CPC/CPS has given him a head start that will continue to benefit him for many years to come. The investment and sacrifice we have made to send our son to the quality of institution we find in CPC/CPS, has been our single greatest investment!"
"We are extremely happy with Children's Primary Centre. The teachers and all members of the school love what they do and love the children.
We understand that selecting who will be responsible for the education of our child is one of the most important decisions we will be making as a parent. After all, it is where our child will spend most of her time.
So our decision was made of it on top of what our child will learn and most important what kind of experiences she will have to impact the adult she will become.
Thank you for embracing our child, for welcoming our family and for offering so much transformative potential through your commitment and values."
"Mere words cannot express my heartfelt gratitude to serve as the Director of Youth and Early Childhood at Cornerstone Montessori Prep School for the past 5 years.
How often do people get to say that they look forward to going to work every day? Well, I am blessed to be one that can confidently say, I do! There is nothing better than being able to walk through the same doors, every single day, to expect and receive new results by teaching the same subject, working with the same students, interacting with the same families and moving along with the same team of teachers that give above and beyond. Cornerstone is not just a place where I work, Cornerstone is a warm inclusive community that I call home. I give thanks to God for giving me an opportunity to play a part on this mission, to educate students who, for the glory of God, are capable of achieving at or above grade level with reasonable effort in a traditional learning environment that prepares students for higher education while developing and implementing a Christian worldview that permeates all of life.
I am excited to keep on pressing forward with all the teachers, students, and families to transform ordinary lives into extraordinary ones through faith, leadership, character and achievement in the years to come!"
"Thank you so much for your great school because I learned not only English but French and Mandarin and how to be kind to others. I learned more about Jesus and about the Fruit of the Spirit and I made some awesome friends. Even though I am now back in Korea, I still think fondly of Cornerstone all the time and wish that I could be back there again."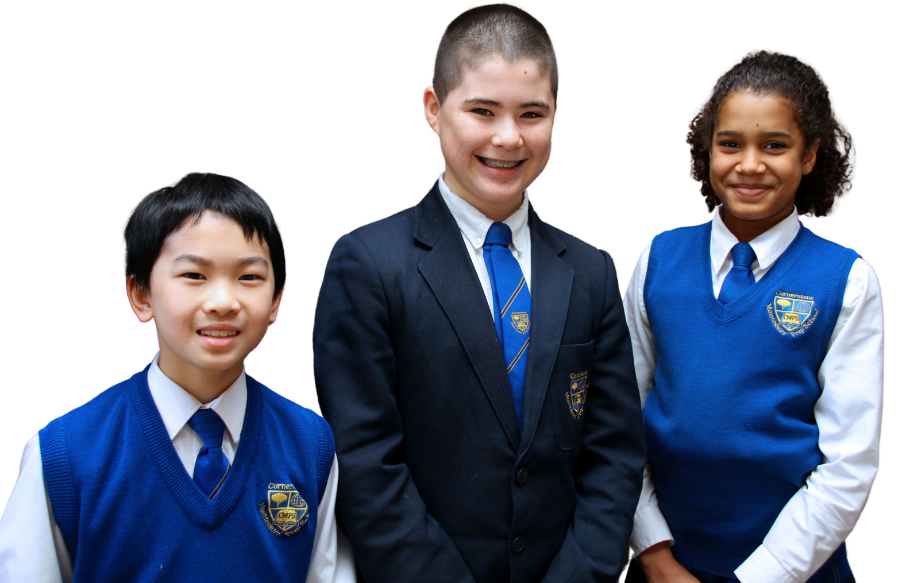 "Cornerstone is a really good school and the academics are pretty strong. I like the way that the teachers help one-on-one to improve the standards of my children. Cornerstone has developed my children's standards."
– U.V., PARENT